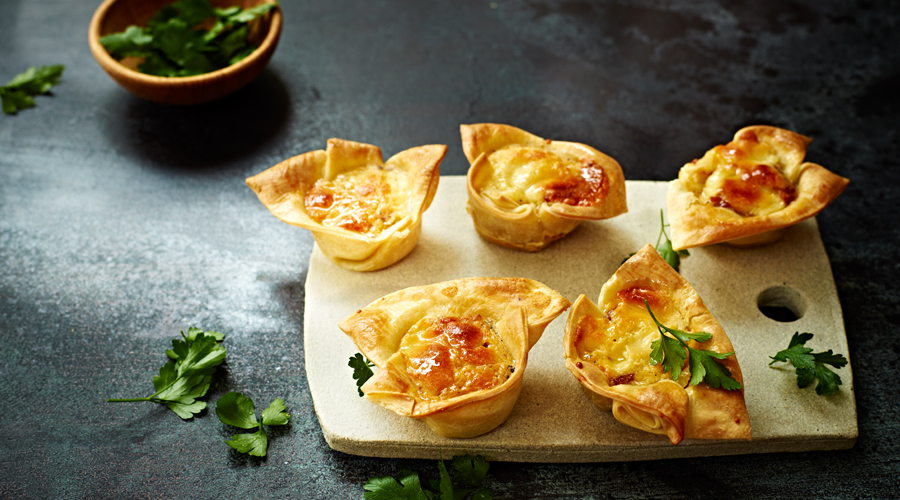 Moondarra Balsamic Vinegar and Onion Cheddar mini quiche cups
Serves 4 as a light meal with a salad
Ingredients
120g Moondarra Balsamic Vinegar and Onion Cheddar Cheese
3 frozen shortcrust pastry sheets, defrosted and cut into quarters
6 eggs
2 rashers bacon, roughly chopped
1 small purple onion, peeled and sliced finely
2 teaspoons olive oil
½ teaspoon ground pepper
2 tablespoons fresh parsley, chopped
METHOD
Preheat oven to 200°C or 180°C fan-forced.

Defrost pastry sheets on a clean work bench Spray a 12-hole muffin tin with oil very well. Whisk eggs and set aside. Cut pastry sheets into four pieces, it does not matter if they are not even. Place each quarter of pastry into each muffin hole randomly ,pricking the base with a fork. Place pastry cups in oven for 20 minutes until crisping up. Remove and brush the edges of the pastry cups with whisked eggs. Add pepper to eggs. Bring a frying pan to medium-high heat, then add oil. Cook bacon and onion turning after 2 minutes, for four minutes in total, until crisp and a golden brown color. Add to Whisked eggs and spoon into each pastry cup. Sprinkle Moondarra Balsamic Vinegar and Onion Cheddar over each cup evenly. Place in the oven for 15-20 minutes or until bottom of pastry is cooked through. Remove from oven, stand for 10 minutes, carefully remove pastries from pan using a butter knife, and sprinkle with chopped parsley to serve.

Tips: can make these the day before for a light treat the next day.