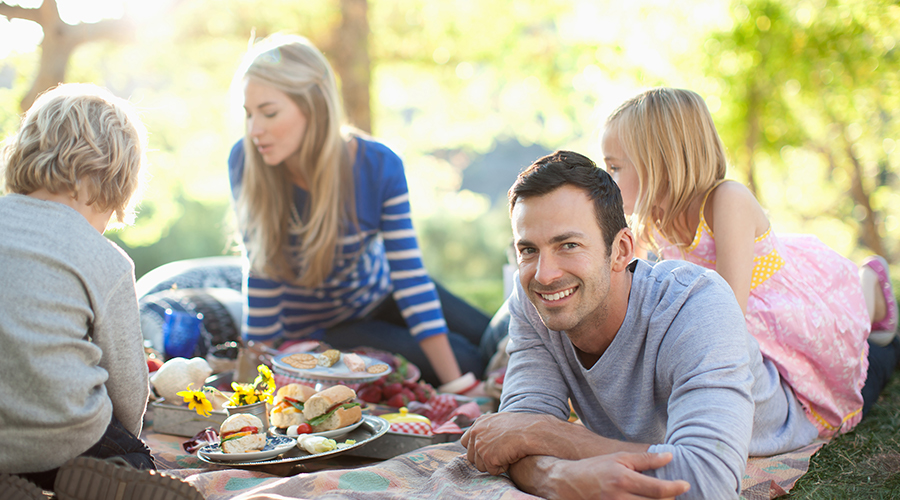 A perfect summer picnic
Sometimes you just want to take advantage of the beautiful weather, get to the beach or park after school or work, and just soak in those last few hours of daylight with a picnic. But then you think about the effort involved in organising the food and start to get the feeling that a picnic is just all too tricky.
The perfect impromptu picnic doesn't need to be hard work. It's about enjoying the best that summer has to offer. With some basics on hand in your fridge and pantry—or with a quick trip to the supermarket on your way home— it's easy to rustle up a meal to enjoy with your loved ones outdoors. Picnics don't have to be elaborate, and by keeping it simple, you can enjoy great food and relax in the company of the people you love.
Kit up
The first step to being picnic-ready is having your kit ready to go whenever the mood strikes. You can either buy a commercial picnic set, or explore the op shops to put together an eco-friendly picnic kit.
To get you started, here's some essentials to fill your basket with:
– A blanket or a couple of towels to sit on,
– A small chopping board,
– Plates and cups,
– Cutlery, including a multi-purpose knife for cutting bread, fruit, vegetables and cheese,
– Sunscreen and insect repellent,
– Play equipment such as a ball, frisbee or more elaborate games like bocce.
Supermarket staples are the key to impromptu picnics
Get ahead of the game on your next trip to the supermarket. A fridge and pantry with a few supermarket staples can see you picnic-ready in just a few minutes.
Throw a couple of dips, some antipasto either from the deli counter or jarred produce, and crackers into your trolley. Supplement these with some fresh produce like some crusty bread, vegetable sticks, salad leaves, and cut up fruit and you've got the foundations for a simple yet delicious picnic. For something more substantial, grab a barbeque chicken on your way and you've got everything you need for an outdoor feast.
Say cheese
A great way to take your picnic from simple to special, is with some quality local cheeses. The range from Moondarra is accessible, readily available, and proudly Australian-made. It's also great value for everyday affordable luxury.
Moondarra's flavoured cheeses are also an easy way to add more complex flavours to your picnic without fuss. For example, take a piece of crusty bread and spread it with Moondarra's Tomato and Basil flavoured cheese for the taste of bruschetta, without needing to drag loads of extra produce along for the picnic. Or for an easy yet sensational dessert, try pairing apple or pear slices with our Honey and Pistachio flavoured cheese.
Head to your nearest Coles or IGA (and independents) throughout Australia, or any supermarket across New Zealand, to pick up your preferred Moondarra Cheese – so you're ready to have your very own #MoondarraMoments.