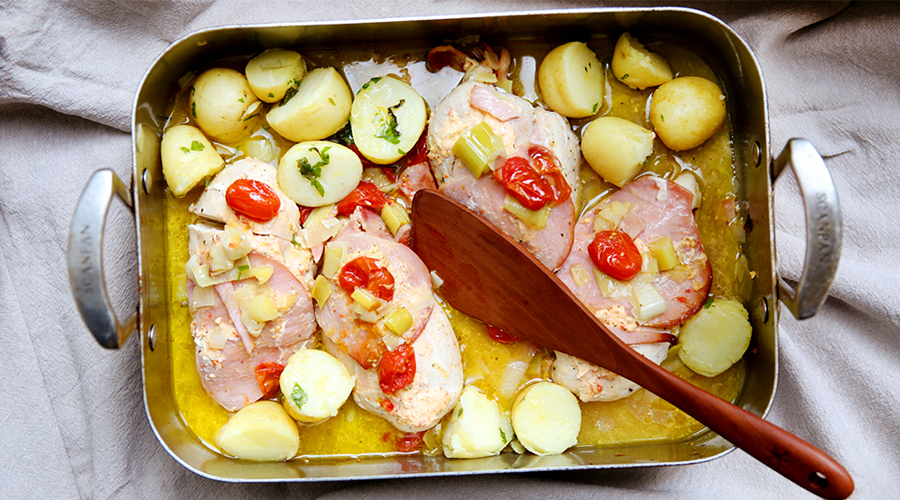 With cheese on hand – a great meal is only minutes away
Everybody is busy these days. When the schedule fills up, having cheese on hand can help the week become, if not lighter, at least tastier and a little smoother.
An easy dinner recipe
Who doesn't need a new recipe for their dinner repertoire? Bacon-wrapped chicken stuffed with Moondarra's Tomato and Basil Flavoured Cheese is an absolute winner. Simply wrap your chicken with bacon, stuff it with the Moondarra cream cheese and cook it with leek, white wine and cherry tomatoes. This one is an absolute keeper.
Introduce the cheesecake shake
Do you adore shakes? Try adding cream cheese. Taste-wise, this works for fruit-based smoothies as well as sweet treat milkshakes. The results are often wonderfully creamy, almost like a dessert in a cup. The Moondarra Honey and Pistachio, or Chocolate and Hazelnut cheeses are likely to make a good impression. Don't be afraid to experiment!
Give morning tea a savoury makeover
Morning tea, whether at the office or with friends, often ends up a sweet rather than savoury affair. Take a break from cake, and switch things up with a cheese platter. Not everyone has a sweet tooth.
All-season entertainer
Having cheese in the fridge reduces the stress of catering for unexpected visitors. Whip up a platter on a sunny day, or indulge in fun fondue on a cool evening. Cheese is often a big crowd pleaser, so having Moondarra Club Classic Cheddar is great to have on standby.
Upgrade a last minute meal
On days when even ordering takeout is too hard, and instant noodles or a sandwich lead the field, a dash of great-tasting cheese makes all the difference. Upgrade fast meals with a slather of cream cheese or grated cheddar (and promise to include vegetables next time). Moondarra's Garlic and Chives or Cracked Pepper are an instant dish pick-me-up. For spicy fans, how about the Club Chilli Cheddar?
Low prep picnics
Nice nibbles can make or break the picnic basket because for many, snacks are preferable to heavy meals when eating outdoors. Forget stressing over baked or roasted goods: great cheese, crackers, fresh bread, and a good bottle of wine sets the scene for a fabulous day or evening out. Try Moondarra's Tomato and Basil Flavoured Cheese paired with a crusty bread.
Cooking with kids
Many children love being busy in the kitchen. Why not encourage youngsters to get involved during prep time for meals and snacks? For kids who love cheese, using biscuit cutters to make slices into shapes is simple and fun. Recipes created for children that include cheese in the ingredient list, are easy to find online.
Bring a plate? No drama
"We need to take something" are words dreaded by every busy person. Instead of rushing around to buy food or attempting to cook up a storm at the last minute, use a flavoursome cheese from the fridge as the basis of a tasty platter. Adding fruit, chocolate, antipasto is an option—but a Moondarra cheese is enough to entice the tastebuds.
Think of your health
Unhealthy snacks can become a regular part of the daily routine. Instead of reaching for a less than nutritious offering, try changing the habit. Bypass junk food, and choose cheese: a slice or chunk contributes on the protein and calcium fronts. Choose from the Moondarra Club Cheddar range, and keep it in the fridge.
Be imaginative with salad
Forget traditional ideas of what constitutes a salad. Be bold in the kitchen. Take inspiration from global recipes, and browse experiments of foodies online. Design a dish. Try vegetables different to the usual fare. Include fruit—fresh or dried. Consider nuts and seeds, and of course, add cheese. Moondarra Club Lime and Cracked Pepper Cheddar will introduce a zesty edge.
Nibbles on hand
Ever craved something yum after a long day only, only to face a bare cupboard and empty refrigerator? Add a tasty cheese to your shopping list, even when you don't have a dish planned. That way you have a standby snack with a flavour kick or cheese on hand as part of a last minute platter.

Head to your nearest Coles or IGA (and independents) throughout Australia, or any supermarket across New Zealand, to pick up your preferred Moondarra Cheese – so you're ready to have your very own #MoondarraMoments.