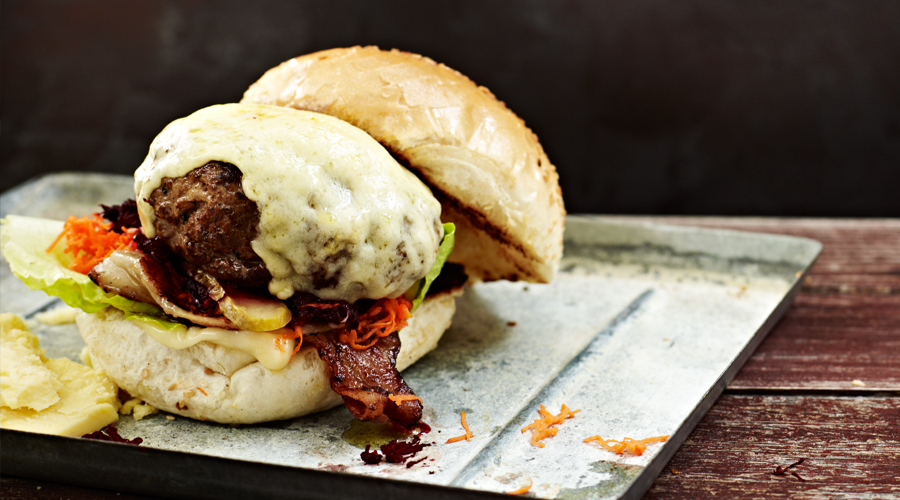 Moondarra Club Cheddar Ultimate Cheeseburger
Serves 4
Ingredients
120g Moondarra classic cheddar, sliced lengthwise carefully
600g good quality beef mince
1/3 cup caramelized onion
2 teaspoons Dijon mustard
½ teaspoon sea salt
¼ teaspoon ground pepper
2 teaspoons extra virgin olive oil
4 sesame seed burger buns
2 tablespoons good-quality egg mayonnaise
2 dill pickles, sliced
1 tomato, thickly sliced
2 small fresh beetroot, grated
2 small carrots , grated
METHOD
Preheat oven to 16o°C or 140°C fan-forced. Line a baking tray with baking paper, set aside.

Place mince, onions, mustard, salt and pepper in a bowl mix to combine. Shape into patties. Heat oil in a non-stick frying pan over medium heat, add burgers and cook for 4 minutes on each side. Once cooked place burgers on prepared tray, place Moondarra classic cheddar slices on top of each burger and place in the oven.

Add buns to the same pan on a medium heat and toast on each side for 1 minute in the pan juices.

Place the toasted buns on plates, spread with mayonnaise and pile high with fresh ingredients of choice topping with the warm burger with oozy Moondarra classic cheddar cheese.