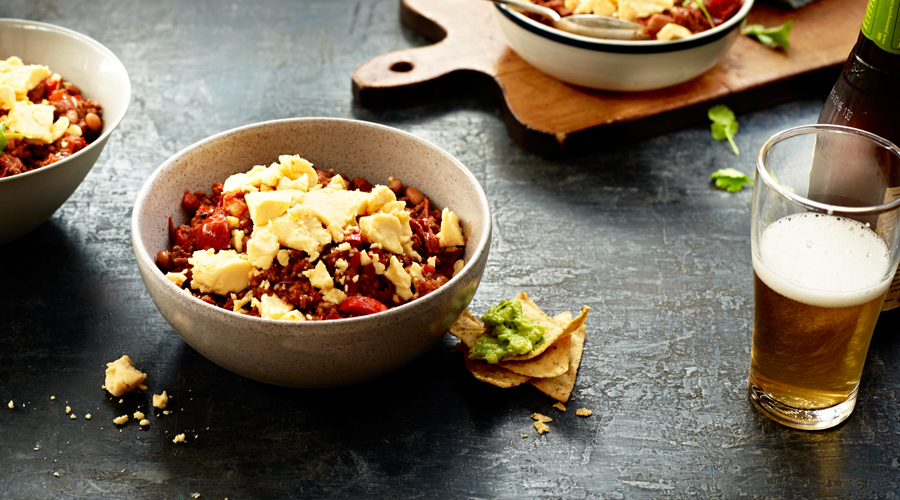 Moondarra Chilli cheddar Texas Chilli bowls
Serves 4
Ingredients
120g Moondarra Club Chilli Cheddar, crumbled
500g good quality beef mince
2 cloves garlic, finely chopped
1 brown onion, finely chopped
1 red capsicum, deseeded and roughly chopped
1 tablespoon extra-virgin olive oil
1 tablespoon Mexican chili powder
1 tablespoon smoked paprika
1.5 teaspoons sea salt
pepper to taste
400g canned cherry tomatoes
1 cup (250mls)tomato passata
1 cup (250ml) beef stock
1 teaspoon raw sugar
400g canned borlotti beans, rinsed and drained
½ avocado , roughly mashed
Sour cream, to serve
Tortilla chips, to serve
METHOD
Heat oil in a heavy- based frying pan over a medium heat and add mince, garlic, onion, capsicum , salt, pepper and spices, cooking for 8-10 minutes until meat is browned and spices are fragrant. Add tomatoes, passata, stock, and sugar and turn heat down to a simmer.

Let simmer for 30 minutes, stirring every so often. Preheat Grill to 200°C. Place 4 oven-proof bowls on a baking tray ladle chilli into each bowl. Crumble Moondarra Chilli Cheddar over each bowl and place tray with bowls onto the higher rack in the oven and grill cheese for 2 minutes or until golden and oozy.

Serve with avocado, sour cream and chips.

Tips:

Can be made the day before.

If you are sensitive to spicy food, cut the Mexican chilli powder down to ½ tablespoon.

You can make this chilli and freeze it into portions , and each portion would make a great topping for nachos as well.