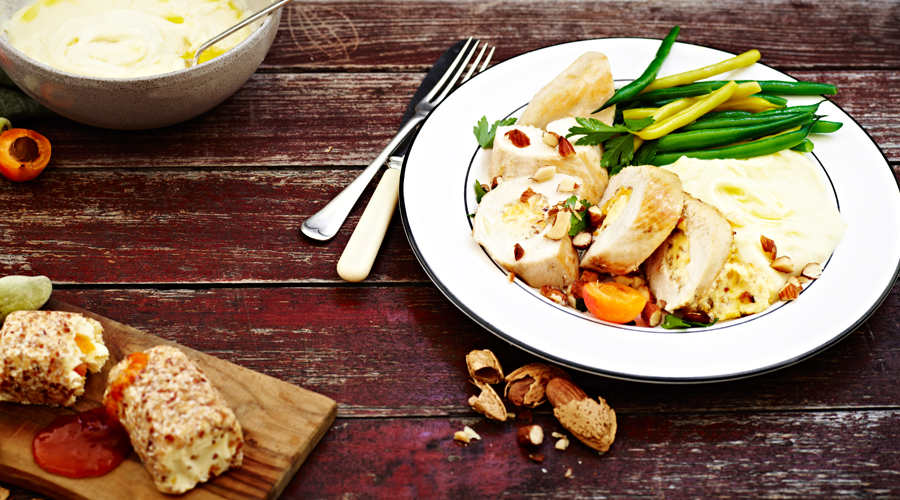 Moondarra Apricot and almond cream cheese stuffed chicken breasts with mash and veggies
Serves 4
Ingredients
700g chicken breasts, trimmed of excess fat and tenderloins removed
120g Moondarra Apricot and almond cream cheese, cold
2 teaspoons extra-virgin olive oil
¼ teaspoon sea salt
Green beans, steamed
Mash potato
1/3 cup toasted almonds, chopped
Lemon wedges to serve
METHOD
Preheat oven to 200°C or 180°C fan-forced.

Using a small sharp knife, hold each chicken breast in your hand firmly and make a 1.5 cm incision at the top of the thickest part of the breast in the center, lengthwise through the breast. Be careful not to push the knife completely through or cut yourself. Push the cheese through the pocket in each breast, salt both sides and set aside. Heat oil in a heavy based oven-proof fry pan over a medium heat, add chicken breasts and brown all over turning every minute for about 8-10 minutes.

Place pan in oven and finish cooking for 10 minutes for thicker breasts. Remove pan from oven, cover chicken with foil and allow to rest for 8 minutes. Slice and serve scattered with chopped almond, and parsley. Serve with vegetables , mash and lemon wedges.