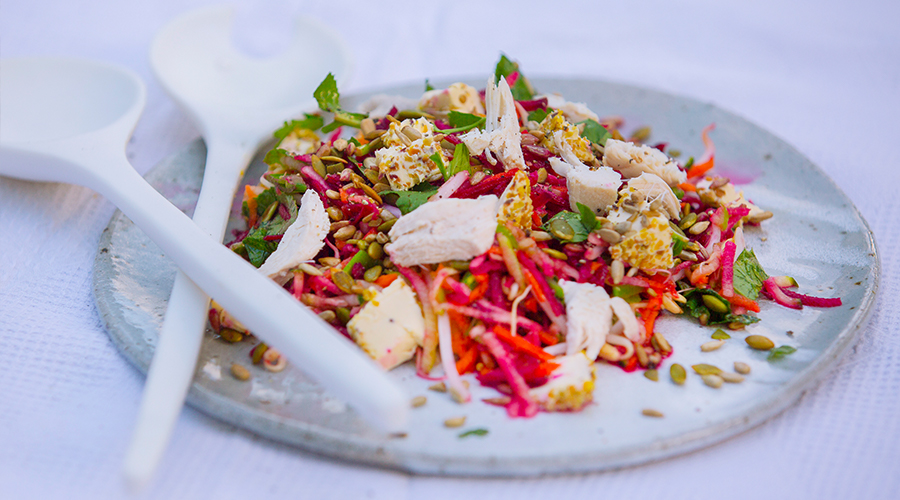 The easiest summer salads
Whatever the season, creating an easy, stunning salad is the perfect way to bring people together around your dining room table. A great salad, is one that is quick to create, and is filled with delicious ingredients that you can find without a hassle at your local supermarket. If you're stuck for time or ideas, these three simple steps will help you become an expert in a matter of minutes.
Fresh, refreshing salad ideas
Salad doesn't have to be boring, especially given the variety of vegetables and fruits on offer at local supermarkets. The first step is to decide what kind you want to make, knowing what's in season and what ingredients you have on hand. Ideas include roasting vegetables and fruits to caramelise flavours, combining juicy textures—like melons, mandarin and cucumbers—or using thinly sliced, raw vegetables to create a spread of colour. Think outside the box to create your own unique combinations to provide an exciting base for the next step: fusing them all together.
Adding flavour and texture with cheese
The easiest way to add a little something extra to salad is using high quality soft cheese crumbled over the top to provide complementary flavours. Soft cheese adds a beautiful textural contrast between the bite of greens or the warmth of roasted fruits. It's also a great way to minimise how much dressing you need at the end.
In a salad with cucumber, watermelon and cherry tomatoes, each of these flavours are either juicy or tangy. The perfect complement to these flavours is a soft cheese that balances out the tang of cherry tomatoes. Moondarra has a range of high-quality options to do just that. Our top tip is to opt for either the Honey and Pistachio, or Tomato and Basil – which are available at Coles or IGA (and independents) throughout Australia, or any supermarket across New Zealand.
Other great ingredients that will provide flavour and interest to your salad are:
Nuts and seeds (pumpkin seeds, almonds, pine nuts, or walnuts);

Croutons (store-bought or make your own by lightly browning bread in a pan or low-heat grill);

Boiled eggs or cold meats.
Dress to impress
The last step to making a great salad, lies in the final touches: the dressing and garnishing. There are a huge variety of dressings to choose from, but the most straightforward and reliably tasty ones are an olive oil and balsamic vinegar blend, or perhaps olive oil and cider vinegar with the addition of mustard, or shallots or whole-egg mayonnaise or yoghurt. The goal in dressing a salad is to always lightly coat the ingredients, never to drench them.
Top tip: Buy a spray bottle (the kind you can use for watering plants) to give the salad the perfect ratio of dressing and shine.
The very last step in creating stunning salads is to add a garnish. This could be an extra crumbling of Moondarra cheese, some finely chopped dried tomatoes, or a handful of torn fresh herbs (we recommend chives, fresh coriander, fresh basil, parsley and mint).
Ultimately, it's all about about discovering new flavours and bringing the people you love together to enjoy the food. Use these ideas to keep it simple, stress-free and to get creative this summer.
Head to your nearest Coles or IGA (and independents) throughout Australia, or any supermarket across New Zealand, to pick up your preferred Moondarra Cheese – so you're ready to have your very own #MoondarraMoments.